WC General Steel (Frozen Only)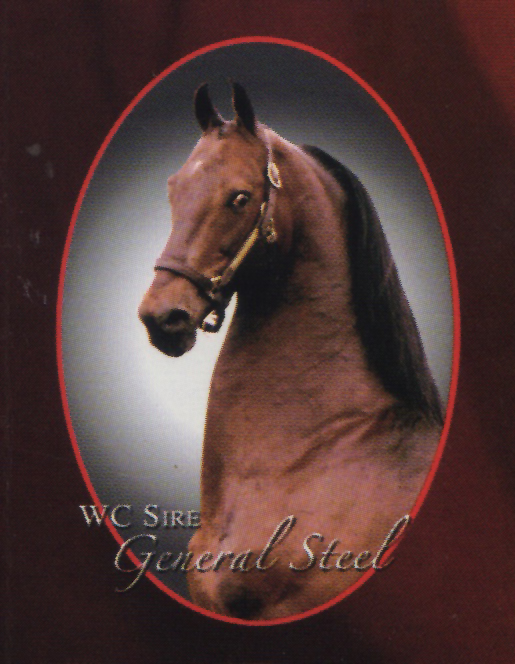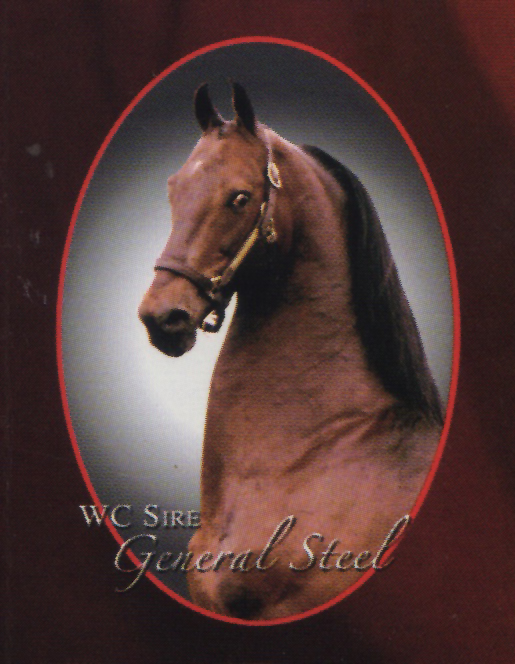 WC General Steel (Frozen Only)
Private Treaty
(Penny's Superior Stone Wall X Joyful Delight)
Alliance Stud is proud to offer to the public frozen semen of this renowned deceased World Champion sire, General Steel, the "sport horse", who was formerly owned by the late Gil Romito of Inverwood
Stud. He was by Penny's Superior Stonewall, who has sired many champion offspring including WC CH The Homecoming Queen, WC CH The Homecoming Hero and the WC CH The Bodega Bay. His dam, Joyful Delight is our of Nancy O'Lee who produced WC Caraway, Martha! Martha!, Nativity (dam of WC That's My Story), Natalie O'Lee (dam of WC Callaway's Newscaster) and the premier stallion Ultimatum. Joyful Delight only had two foals, WC sire General Steel and WC sire The Manipulator.
It is very important to know that General Steel is a World Champion Futurity and Performance sire. World Champions sired by General Steel include WC Steel The Dance, Multi-World Champion CH Tamarack's Lighting Strikes, WC Star Spangled Steel, WC Steel in Love, WC Steelinthedeal, WC Satin On Steel, WC Special Steel, RWC G.P.Rom, RWC Sweet Steel, RWC Steel'N A Dream. Stake Winners by General Steel include Steel Appeal, Thou Shall Not Steel, Steeling Home, Five Star Sweetie, Knight of Steel, Steel A Secret TS, Jack Nicholson, O What a Steel and the list goes on and on.
Please contact Alliance Stud regarding frozen semen for this magnificent stallion at private treaty.
Frozen semen managed by Alliance Stud.